sacred chao merchandise/ clothing line
Wednesday October 13, 2010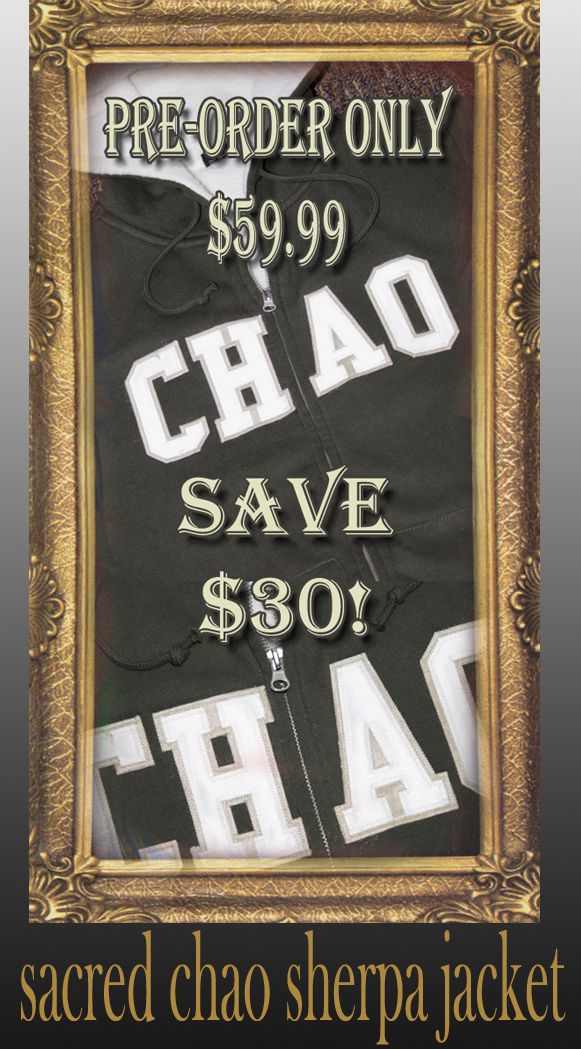 sorry i havent kept you all posted on the latest Sacred Chao Tattoos Clothing line: I will be putting up more information as i have time to do so.
Right now we are taking Pre Orders for Sacred Chao Sherpa Jackets and Sacred Chao Pullover Hoodies with huge savings on all.
I will be posting more information and photos here in the News section of my website.
so far there is no Travis Litke wear and im not sure im going to go there.
there is however Sacred Chao Tattooing & Piercing wear which i am the owner so its kind of like Travis Litke wear.
right now we have available for pre order: Hoodies in 21 color varieties. they are 80/20 cotton poly 8.5 oz. and are high end with the Sacred Chao Logo Crest embroidered over the left chest color to match hoodie.
we also have a womens zip hoodie with crest embroidered to match left chest
sherpa lined zip hooded jackets with tackle twill "CHAO" on front and embroidered sacred chao crest on back with super secret Ipod pocket and built in thumb holes comes in Olive Brown Black and Gray. Olive shown above.
we also have Synth wool sacred chao beanie hats charcoal gray with sacred chao tattoos embroidered as well as sacred chao logo
keep checking back
i will be posting pictures as the products come back from being embroidered.
thanks,
Travis Litke